Some of you all know our writers from Dailyvibez.com, our sister site…. Last year, a few of the DailyVibez.com crew interviewed the 'Chill Seekers'. The Chill Seekers are a local paranormal team, composed of a husband and wife and at times joined by others within their paranormal community. Great people and amazing results. Check out their 
YouTube https://www.youtube.com/user/chillseekers 
 We definitley need to catch up with them soon, but for now we are going to check out an app that, Keith Weldon of the Chill Seekers has created! The app is called Spiritus Ghost Box, it's a device used to contact spirits through the use of radio frequencies. It's as if you had an electronic medium helping you directly contact spirits. 
The theory of contacting spirits through frequencies or 'white noise' have been around for centuries. Konstantins Raudive was a Latvian intellect, a writer and a student of Carl Jung. Raudive, taught at the University of Uppsala in Sweden and was highly interested in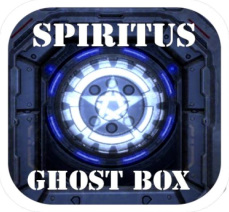 parapsychology and the afterlife. In the late 1960's & early 70's, Konstantins Raudive and German parapsychologist Hans Bender investigated electronic voice phenomena or EVP.  
If you aren't familiar with EVP, it is sounds found on electronic recordings that are interpreted as spirits. Spirits are either unintenionally recorded or requested by the living and recorded. Raudive, popularized EVP and titled EVP as a form of paranormal phenomenon. Fastforward to the 21st century and we have amazing technology and the ability to create phone/tablet apps that are specific to EVP. 
When we tried out the Spiritus Ghost Box app, we selected many of the different frequencies and sound banks that are provided, 
which gives different results. We did hear some chilling words and voices come through and at one point, one of our crew members name was yelled out repeatedly. We are not professional paranormal researchers in any way, but do feel that we heard spirits in this app. 
There are ambient sounds within the app, which would be great for seances or large group sessions. The app also gives you the ability to choose from several sound banks, ranging from male/female sounds and music sounds. There is also an option for a visual of the spirit. 
You can find this app on iOS & Android. This app is awesome for the professionals as well as the average individual, we highly recommend it! http://chillseekers.com/ 
Please follow and like us: